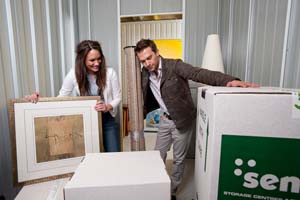 Renting container storage space from us is easy, flexible and cheap. All you need to do is give us a call and we will make you an appointment to show you the storage space. We will talk you through our easy to use security system and show you the storage containers and locks. Should you want to go ahead it's just a few pieces of paperwork and once complete you'll have 24/7 access to your storage space.
We also offer motorhome and caravan storage as well as storage space for your boat or trailer.
✔ Drive straight up to your unit
No having to wait for lifts and pushing trolleys through corridors
✔  Access to your possessions 24 hours a day 7 days a week
No need to make appointments or stick to opening hours, come and go as often as you like with our secure 24/7 access system.

✔ CCTV Security & Floodlights
Giving you peace of mind you and your possessions are safe. See our page on self-storage security for more information.

✔ Only pay for the days you use
Give us 14 days notice you are leaving and we will refund you for any unused days