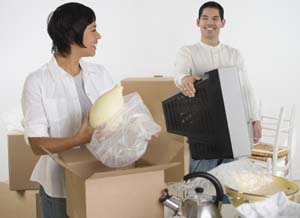 Wherever your need for storage has arisen from its worthwhile giving some consideration to how you are going to pack your items and load your container. We have detailed below a few tips on how to protect your belonging and make best use of the space. As people use storage for many different reasons not all of the tips will be relevant to you but they should help you to get started. If there is anything we haven't covered then please give us a call and we will be happy to advise you.
Wherever possible we recommend that items are boxed as this will allow you to transport your items more easily and make efficient use of the space in your storage container. If possible its best to use proper storage boxes as these are designed to be stacked. Don't forget to label your boxes and keep a list of their contents.
When loading the items into the container we would generally recommend putting largest items in first and then padding out the spaces between the items. You do however need to give consideration to the access you will need to the items you are storing. It may be sensible to leave a central aisle in the unit to make it easier to access items.
Large items
Disassemble larger items such as tables and beds to make best use of your space and protect the item in transport. Remember to label bags of screws clearly to ensure easy reassembly. If your item can't be disassembled consider using the spaces in and around it such as in cupboards or under tables to place smaller boxes and avoid wasting space. Only do this once your piece of furniture is in the storage unit and don't forget to cover it with a dust sheet or blanket.
Sofa's, mattresses & beds
Many sofas, mattresses and beds will store with ease on end again saving you floor space in your unit.  Again we recommend covering with dust sheets. Leather sofas are best stored flat to avoid sagging of the leather.
Wooden furniture
Where appropriate a heavy coat of furniture polish or wax should be applied prior to storing to item. When in the unit cover the item with a dust sheet, blanket or furniture cover to protect it from dust.
Household Appliances
We recommend that household appliances are emptied, cleaned and where applicable defrosted and doors left ajar. A cup of baking soda left inside the appliance can also help to neutralise odours that may develop in the appliance.
Electrical Appliances
We recommend that where possible electrical appliances such as computers and televisions are transported and stored in their original packaging. If this is not possible try and choose a box that is close to the size of the appliance and use plenty of packing material.
Heavy items

Many small items can be heavy and it may seem obvious but be careful not to pack boxes so they are too heavy to carry. When packing items like books always use smaller boxes to ensure you can lift the box without straining. For most people this will be a maximum weight of 20kg. Don't forget you can always store these smaller boxes inside pieces of furniture once they have been moved into the storage unit.
Tape up your boxes
We recommend you seal all your boxes as this will make them easier to stack and prevent items falling out in transit.
Document storage, archiving & books

Books, documents and paperwork can be very heavy even in smaller quantities. Always use smaller boxes and perhaps consider the use of archive boxes. When storing books always pack them flat to avoid damaging their spines.
Fragile items
Always wrap fragile items individually and use a layer of packing material inside the box these items will be stored in. Heavier items should go in the bottom of the box and it may be useful to label the box as fragile.
Mirrors & pictures
Store mirrors and pictures on edge and if stacking against each other use padding between each item. When lifting the item do so from the sides rather from the top. In order to do this you may need two people but it will protect your item from damage. For paintings many collectors use an acid-free paper loosely covering the face of each painting.
Clothes storage
Wardrobe boxes can make packing and unpacking your clothes easier as it allows you to store your items on the hanger. This will also help retain the shape of your garments and perhaps saving you time ironing!
Metal objects, bikes and tools.  
We recommend you wipe metal objects with an oily rag before storing.This includes things like lawnmower blades and garden tools.
Here at Self Storage Hampshire we offer cheap and secure Personal self storage and Business self storage.
Check out our self storage Prices page for more information or call us on 0800 916 8705. Operated by Sentry Self Storage.
Want to know more? See our FAQs and self storage packing tips.