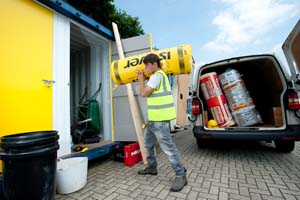 Our self-storage containers are perfectly suited for storing your bulky materials and tools. They provide a safer affordable alternative to leaving equipment in a van overnight and also avoid the need to clutter up your home with materials for the next job. At Self Storage Hampshire our site is covered day and night by CCTV cameras so you can be sure your materials and tools are safe. You can drive straight up to your unit so you won't be carrying heavy items unnecessarily.
You'll have access 24 hours a day 7 days a week so if the builders merchant is not open when you want to collect your materials then you may find it easier to collect it in advance and place it in storage so its ready for you when you want to start the job.
You can also take advantage of times when materials may be available for cheaper prices or avoid being caught out with stock not being available.
Here at Self Storage Hampshire we offer cheap and secure Personal self storage and Business self storage.
Check out our self storage Prices page for more information or call us on 0800 916 8705. Operated by Sentry Self Storage.
Want to know more? You can read our FAQs and self storage packing tips.