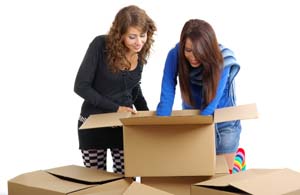 If you're heading home for the summer months in between terms there is no need to lug all your possessions back with you. In fact it might even be very difficult if you are an international student flying home for the summer. All you need to do is pack your belongings up and pop them in our storage containers and you'll be able to rest assured your possessions are safe even if home is the other side of the world.
If you don't have many items then you could consider getting a group of you together and you could split the cost of renting the storage unit between you making it even cheaper. You can also take advantage of our longer term storage discounts leaving your more to spend in the student bar! Take a look at our page on how our storage works for a bit more information.
Some students also use storage for their possessions when they first go to university. It might be that mum and dad want to turn your room into a gym or perhaps they are downsizing now that you have flown the nest. Whatever the reason you might have items that you just don't want to take with you but don't have space to leave behind. Self Storage Hampshire can be the answer for you.
We can also help to store your stuff if you are going away on a gap year or sabbatical. Wherever your need for student self-storage has arisen from we are here to make it easier for you, even if you have left it to the last minute!
Here at Self Storage Hampshire we offer cheap and secure Personal self storage and Business self storage.
Check out our self storage Prices page for more information or call us on 0800 916 8705. Operated by Sentry Self Storage.
Want to know more? See our FAQs and self storage packing tips.