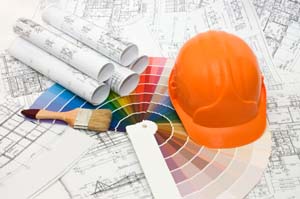 If you're having building work or decorating done you might find it easier to put your furniture and possessions in storage whilst the work is being carried out. That way you know your possessions will be safe and protected from knocks or spills that may damage them. You might also be happier knowing your valuables are secure and protected whilst you have contractors in the house meaning you can get back to work or get on with your day with less worry.
Having the house less cluttered can also make it much easier for tradesmen carrying out the work meaning they can get the job done quicker saving you some money on labour. If you are doing the work yourself you'll also find it easier to work if you don't have to worry about tripping over boxes or getting paint on the sofa!
At Self Storage Hampshire we are really flexible so if your building work or renovation overruns you can always store for longer than originally planned.
Some customers use storage in order to buy the materials for their building work in advance meaning they can take advantage of sale periods, offer prices and bargains helping them save money on their renovation. Often companies can delivery your new kitchen, bathroom suite or appliances direct to your storage unit and when you are ready for the work to be done you just need to give your contractor the keys to your unit and they will pick up the materials they need for the day.