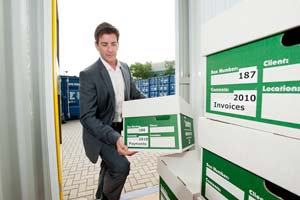 Secure document storage is essential for many businesses and whilst the electronic age is upon us many businesses still need paperwork which has to be kept securely for a number of years.
It might be that you are a solicitor looking to store deeds and wills, an accountant storing client files for long periods of time or perhaps a business storing customer orders or patient records.
With document storage from Self Storage Hampshire we can help you reduce your businesses costs by allowing you to free up valuable office or retail space, removing clutter and enabling you to operate more efficiently.
Many document storage services will collect your documents from you and store them in their facilities. Whilst this can initially be convenient if you need access to something you don't always have the benefit of access to the storage facility. At Self Storage Hampshire you hold the keys so you have access to your document storage 24/7 so you will never be without the document you or your customer needs. And because you hold the keys you will never incur retrieval charges as you can come and go as often as you like.
We have different sizes of storage unit to suit your business needs.  Check out our self storage Prices page for more information or call us on 0800 916 8705. Operated by Sentry Self Storage.
Here at Self Storage Hampshire we offer cheap and secure Personal self storage and Business self storage.
Want to know more? See our FAQs and self storage packing tips.