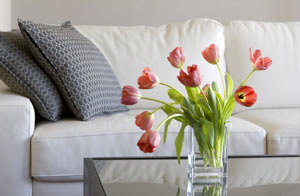 If you are selling your home you will want to achieve the best price for your property. Many estate agents tell us that in order to do this we should declutter. This makes it easier for purchasers to imagine themselves in your home and can make your sale faster.
If you can, pack away anything that isn't essential for you or items that don't add to the look of the room. Seasonal items like the Christmas tree or the summer wardrobe are perhaps easy places to get started. Sentimental items like family photographs and old baby clothes or trophies are rarely looked at so again these are good items to start with packing away.
Also consider removing furniture from rooms in order to make them look larger or less cluttered. It will also mean you have less surfaces and ornaments to dust and clean in order to give the best impression.
Remember, if you do pack something away that you realise you need you can access our storage facility 24 hours a day 7 days a week so you will always be able to get at your belongings.
It is also recommended that you clear out and tidy cupboards to give the best impression so don't just hide everything under the stairs. Try to tackle one room at a time as this will make it easier for you to remove the unnecessary items and also to unpack when you are in your new home. Don't forget about the loft, garage and garden shed as prospective buyers may want to look there too.
This is also an opportunity to throw out or sell items that you no longer need. There is no point storing or moving something you don't really need.
When you are finished decluttering ask an honest friend to take a look around.
Good luck with the sale!